GeNeRARe - German Research Network for RASopathies
What are RASopathies?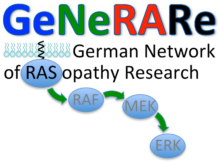 RASopathies constitute a heterogeneous group of disorders with a common molecular pathogenesis and overlapping phenotypic patterns. Noonan, cardiofaciocutaneous, Costello, and LEOPARD syndromes belong to this group, as well as neurofibromatosis type 1 and Legius syndrome.
Dysregulation of RAS-dependent signaling due to a germline mutation in one of the pathway components cause a variety of developmental abnormalities such as heart defects, short stature, facial anomalies, cognitive impairment and others. Interestingly, based on the known molecular basis and supported by preliminary animal studies, RASopathies are considered as disorders that might be amenable to treatment with small molecules.
However, translation into clinical trials is still hampered by a limited understanding about the precise mechanisms on cellular and organ levels. There is also a lack of valid genotype-phenotype and long-term follow-up data, making it difficult to define therapeutic targets.
Research of the GeNeRaRe network
This consortium aims to fill some of these gaps by a multidisciplinary and multimodal approach. GeNeRare aims to address in particular the pathophysiology and molecular pathogenesis of organ involvement that is critical for long-term outcome, namely development of hypertrophic cardiomyopathy and neurocognitive impairments. But the consortium will also study novel aspects such as epidermal differentiation and cellular senescence. Collection of valid genotype phenotype data as well as the investigation of neurophysiologic parameters in affected humans define further lines of translation of basic research to patient care.
Projects
Mutation spectrum, genotype phenotype correlations and natural history of RASopathies: Prof. Dr. Martin Zenker and Dr. Christina Lißewski, University Hospital Magdeburg – Institute of Human Genetics.
In vitro models of neuronal dysfunction in RASopathies: Prof. Dr. sc. nat. Anna Fejtova, Universitätsklinikum Erlangen.
From RASopathiy-associated cardiomyopathy to interaction network profiling and mechanism-based target identification: PD Dr. Reza Ahmadian, Heinrich Heine University Düsseldorf – Institute of Biochemistry and Molecular Biology II.
Generation of RASopathy patient-derived induced pluripotent stem cells (iPSCs) and in vitro analysis of myocardial genotype-phenotype correlations: Dr. George Kensah, Universitätsmedizin Göttingen.
Analysis of the pathobiology of dermatological abnormalities in patients with RASopathies: Dr. Georg Rosenberger, Medical Center Hamburg-Eppendorf (UKE) – Institute of Human Genetics.
Exploration of dysregulated lipid metabolism and mitochondrial activity contribution to the RASopathy pathophenotype : Dr. Ion Cirstea, Ulm University – Institute of Comparative Molecular Endocrinology.
Dissecting the contribution of GABAergic neurons to neurocognitive defects in RASopathy mouse models: Prof. Dr. Oliver Stork, Otto von Guericke University Magdeburg – Institute for Biology.
Generation and neurobiological characterisation of human cerebral organoids modelling RASopathies: Prof. Dr. med. Dr. rer. nat. Michael Schmeißer, University Medical Center Mainz
Contact
Prof. Dr. Martin Zenker
University Hospital Magdeburg
Institute of Human Genetics
Leipziger Str. 44
39120 Magdeburg
Tel.: +49-(0)391-67-15062
Fax: +49-(0)391-67-15066
E-Mail: ihg@med.ovgu.de
Website:
www.generare.de
Publications
Website: Research Network Generare
CLINICAL TRIAL GENERARE