ADDRess - Translational Research for Persons with Abnormal DNA Damage Response
What is an Abnormal DNA Damage Response?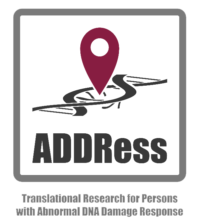 Disorders with Abnormal DNA Damage Response (DADDR) are rare genetic conditions with impaired DNA repair or maintenance. A shared feature among affected individuals is a strongly increased cancer risk. Treatment is commonly complicated due to the underlying genetic defect. Patients may suffer from excessive toxicity/secondary neoplasms, poor treatment response, and high mortality when treated with standard radiation/chemotherapy regimens. The development of treatment strategies is urgently needed. The proposed consortium is composed of patient representatives, physicians from the areas of psychosomatic medicine, gynecology, pediatric and adult hematology/oncology, radiology, pathology, and human genetics, and scientists specialized in cancer and DNA repair.
Research of the ADDRess network
We aim at improving patient information/involvement as well as therapeutic guidance for health professionals; further elucidating disease-causing mechanisms; improving both psycho-social support and cancer surveillance employing innovative magnetic resonance imaging techniques in patients with Li-Fraumeni syndrome; advancing the use of brush biopsies employed as cancer surveillance tool for individuals with Fanconi anemia who exhibit an excessive oral cancer risk; identifying genetic markers of leukemia development; characterizing the genetic and epigenetic profiles of tumors to exploit these findings diagnostically and identify novel vulnerabilities for treatment and investigate new cancer therapies in pre-clinical disease models.
Projects
Coordination (Information, Communication, Data): Prof. Dr. Christian Peter Kratz, Prof. Dr. Lorenz Grigull, Dr. Beate Barbara Dörgeloh and Christina Maria Dutzmann, Hannover Medical School.
Gene identification and functional analysis: Dr. Reinhard Kalb and Prof. Dr. Detlev Schindler, University of Würzburg (JMU).
Optimization of the surveillance program for patients with DADDRs: Prof. Dr. Sarah Schott and Dr. Imad Maatouk, Heidelberg University and Heidelberg University Hospital.
Early Cancer Diagnosis: Dr. Sebastian Bickelhaupt, Dr. Tristan Kuder, Dr. Katerina Deike-Hofmann, German Cancer Research Center (DKFZ) Heidelberg and Prof. Dr. Sarah Schott, Heidelberg University Hospital.
Oral cancer surveillance for patients with Fanconi Anemia: Dr. Martin Schramm, Heinrich Heine University Düsseldorf and Düsseldorf University Hospital; Dr. Eunike Velleuer, Hospital Neuwerk Mönchengladbach and Ralf Dietrich, Deutsche Fanconi-Anämie-Hilfe e.V., Eschau.
Marker in leukemia-development – 2 projects: Prof. Dr. Gudrun Goehring, Dr. Kathrin Thomay and Prof. Dr. Felicitas Thol, Hannover Medical School.
Molecular tumour profiling: Prof. Dr. Stefan M. Pfister, Dr. Natalie Jäger and Dr. Martin Sill, German Cancer Research Center (DKFZ) Heidelberg.
Pre-clinical models. Dr. Till Milde, German Cancer Research Center (DKFZ) Heidelberg.
Contact
Prof. Dr. med. Christian Kratz
Pediatric Hematology and Oncology
Hannover Medical School
Carl-Neuberg-Str. 1
30625 Hannover
Tel. +49 511 532-6711
E-Mail: kratz.christian@mh-hannover.de
Website: Website: www.krebs-praedisposition.de/register/address