MD-NET - Muskeldystrophie Netzwerk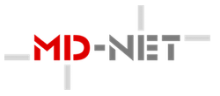 MD-NET ist eine deutschlandweite, vom BMBF geförderte Arbeitsgemeinschaft zur Verbesserung der medizinischen Versorgung von Menschen mit neuromuskulären Erkrankungen (Förderkennzeichen 01GM0887). Von 2003 bis einschließlich 2012 wurden umfangreiche Strukturen zur Förderung von Grundlagenforschung, Diagnostik und zur Etablierung von Klinischen Studien geschaffen. Das MD-NET bündelt Kompetenzen aus ganz Deutschland zur Erforschung von Muskeldystrophien, spinaler Muskelatrophien (SMA), hereditärer sensomotorischer Neuropathien (HMSN/CMT) und anderen seltenen hereditären neuromuskulären Erkrankungen.
MD-NET hat sich seit 2006 – um Europaweit agieren zu können – als gemeinnütziger Verein – MD-NET e.V. – konstituiert, und wurde dadurch der deutsche Partner von TREAT-NMD (Assessment and Treatment of Neuromuscular Diseases, www.treat-nmd.eu), einem von der EU im 6. RP geförderten Exzellenznetzwerk für Seltene Erkrankungen. Innerhalb von TREAT-NMD leitet MD-NET die Aktivitäten zu Europaweit harmonisierten Patientenregistern, Biobanken und einer Europäischen Klinischen Studienzentrale und ermöglicht dadurch die Translation von Forschungsergebnissen in Klinische Studien, und den Transfer von Ergebnissen wie aktuelle Behandlungsstandards zur Mehrzahl  der Muskeldystrophiepatienten in Deutschland.
Ziel ist die Etablierung neuer wissenschaftlicher Erkenntnisse zu Genetik, Diagnostik und Therapie von neuromuskulären Erkrankungen und eine umfassende molekulare Diagnostik für die derzeit bekannten Genorte bei Muskeldystrophien, spinalen Muskelatrophien und hereditären Neuropathien sowie Linkage- und Mutationsanalysen für bislang unbekannte Gene.
Unterstützt wird das Netzwerk durch die Netzwerkzentrale des MD-NET. Sie befindet sich im Friedrich-Baur-Institut an der Neurologischen Klinik der Universität München. Von hier aus werden unter anderem die Finanzen des Netzwerks verwaltet und die jährlichen Treffen organisiert. Über die Netzwerkzentrale läuft nicht nur die Kommunikation der einzelnen Mitglieder des Netzwerks untereinander, sondern auch zwischen dem MD-NET und Patientenorganisationen, dem Bundesministerium für Bildung und Forschung (BMBF) und nicht zuletzt nationalen und internationalen Partnern.
Projekte
Entwicklung von AON – Identifizierung der in situ und in vivo Gewebeverteilung von Antisense Oligonukleotiden in der mdx-Maus (Prof. V. Straub, Newcastle, UK)
Dysregulierte microRNAs – Potentielle therapeutische Ansätze zur Behandlung von Muskeldystrophien (Dr. C. Thirion, München)
Präventive Therapie bei DMD – Kardiomyopathie-Präventionsstudie bei Muskeldystrophie Duchenne (Prof. J. Kirschner, Koordinationszentrum Klinische Studien, Freiburg)
Caveolinopathie-Diagnostik – Studien zur Pathogenese der Myopathien aufgrund von Caveolin-3-Mutationen (Prof. J. Weis, PD Dr. Alexander Krüttgen, Aachen)
Z-Scheiben-assoziierte Myopathien – Filamin-assoziierte Proteine bei Muskelerkrankungen und Remodelling (Dr. D. Fürst und Dr. P. van der Ven, Bonn, Prof. M. Vorgerd und Prof. R. A. Kley, Bochum)
Modelle für humane Desminopathien – Charakterisierung der Skelettmuskelpathologie bei der R350P Desmin knock-in Maus: ein Modell für humane Desminopathien (Prof. Dr. R. Schröder; Erlangen und Prof. C. Clemen, Köln)
Muskelbank – Muscle Tissue Culture Collection (MTCC) (PD Dr. A. Abicht, Dr. P. Schneiderat, München)
Zentrale Einheit zur Sequenzierung von Genen für neuromuskuläre Erkrankungen (Prof. C. R. Müller-Reible, Würzburg, Dr. G. Dekomien, Bochum)
Mikrosatellitenanalysen als ökonomische Strategie für die Differentialdiagnostik myogener neuromuskulärer Erkrankungen (Prof. A. Hübner und Prof. M. von der Hagen, Dresden)
Netzwerkzentrale und Patientenregister für seltene neuromuskuläre Erkrankungen (Prof. M. Walter, München)
Patientenregister
In enger Kooperation mit dem europäischen Partner TREAT-NMD (www.treat-nmd.eu) betreut das MD-NET gemeinsam mit den Selbsthilfegruppen benni &  co und der Initiative Forschung und Therapie für SMA den Aufbau und die Koordination europaweit harmonisierter Patientenregister. Bisher stehen folgende Patientenregister für Spinale Muskelatrophie (SMA), Muskeldystrophie Duchenne und Becker (DMD/BMD), FRRPopathien (MDC1C/LGMD2I) und Myotone Dystrophien (DM1, DM2) zur Verfügung:
Kontakt
Prof. Dr. med. Maggie Walter, M.A.
Prof. Dr. med. Matthias Vorgerd
Prof. Dr. med. Janbernd Kirschner
Friedrich-Baur-Institut
Klinikum der LMU München
Ziemssenstr. 1
80336 München
Tel.: +48 89 4400-57400
Fax: +49 89 4400-57402
E-Mail: info@md-net.org
Website: www.md-net.org

Publikationen
Artikel MD-Net in: Verbundforschung für seltene Erkrankungen - Gemeinsam zu Diagnose und Therapie, Februar 2014
Starke Forschung für schwache Muskeln - Muskelerkrankungen im Zeitraffer (in: BMBF-Newsletter Gesundheitsforschung, #65, Dezember 2013)